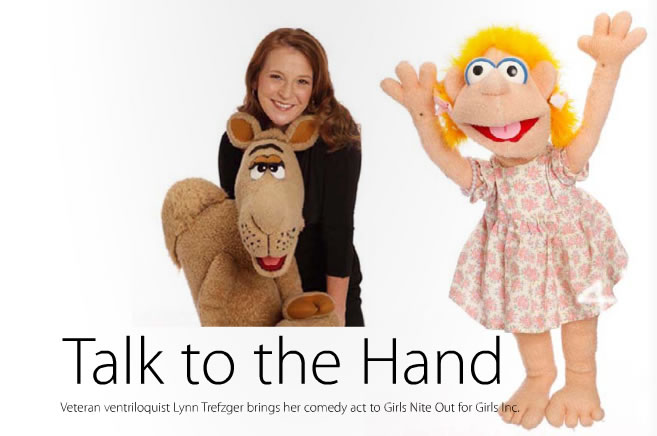 Lynn Trefzger's ventriloquism career began at age 9 when she received a dummy called Simon Says out of the Sears catalog for Christmas. Thanks to the puppet, a shy girl found her voice — and a calling. She started entertaining at a local square dance club and was soon making people laugh at nursing homes, birthday parties and anywhere else she could get a gig.
"My parents thought I'd grow out of it," Trefzger says, with a laugh. "They'd say, 'She'll put the dummy down one day.'"
Nope. She's been playing with puppets professionally for close to 30 years now and entertaining thousands annually.
Trefzger will perform at Girls Inc.'s annual comedy benefit, Girls Nite Out, on Jan. 27 at the Mutual of Omaha Dome.
Trefzger, who's based in Cleveland but travels extensively, took a few minutes between tour stops recently to discuss her act and the state of her profession.
Q. You recently appeared in a documentary, "I'm No Dummy," about the history, present and future of ventriloquism in pop culture. What was your participation in the film?

A. It's a comedy documentary, so it's not that serious, but it features a lot of ventriloquists from the past and present. They did little bios on a few of us. The feedback has been very positive. I knew a lot about the history of ventriloquism, but it was still fascinating to hear about different ventriloquists and what happened to them in their showbusiness careers.

Q. What's the state of ventriloquism today? How has it managed to remain relevant in a 3-D/digital age?

A. Right now, a lot of people think ventriloquism is a dying art, but I think it's making a comeback. Because of people like Jeff Dunham and Terry Fator, who won "America's Got Talent," I think people are more willing to go see a ventriloquist now.

Q. How's the comedy experience as a ventriloquist different than being a stand-up comedian?

A. Because we rely on puppets or dummies, I think we can get away with a little bit more. People are more forgiving of puppets. When they say something blatant, people go, ÒOh, the puppet said it, so it's not so bad. I use a lot of audience participation in my act and when people come on stage, they don't look at me, they always look directly at the puppet. I think that gives us a little edge in that we can rely on the puppet. And if something goes wrong, the puppet just blames the ventriloquist.

Q. How long did it take you to master ventriloquism? What's the toughest part to learn?

A. You never stop learning. Beyond speaking without moving your lips, the hardest part to master is the illusion of making the puppet appear alive. After four or five years, though, that becomes second nature. The hardest thing is developing a new character. It's takes a while to get comfortable with a new character, like right now I've got a caveman character I've been working for two years and it's still a work in progress.

Q. Tell me a little about your act.

A. It's a show for all ages. A character people like a lot is a drunk camel called Camelot. He's a little goofy, but a lot of fun. I have an old man who talks about dating and marriage. I have a girl puppet named Emily who is your typical teenager/20-something. Then there's Chloe, who's a little girl I use for meeting kids. There's something in it for everybody, and everybody seems to have a different favorite character. As long as I'm making people laugh, that's what's most important.

Q. What advice would you give to someone who wanted to get into ventriloquism? What would you say to get them started?

A. I think it's a lot about finding a character, or another side of you, that you're comfortable with. Then it's a lot of practice. A lot. More than just not moving your lips and moving the dummy, it's the illusion. ItÕs takes a lot of practice in front of friends, family. And if you can do it and still remain normal É (laughing) well, there are a few of us out there.